LIVET FÖRE
​Danmark, Sverige, 2017
I have a few memories of my childhood, when I go by car through sweden, the open landscapes, winter nights with temperatures below zero and white fluffy clouds rise from the sky from the factories against the blue-black sky. The contrast with the white organic clouds towards the illuminated monumental forms of the factory and the blue-black night sky is one of the most beautiful I know.

​This is a work of proportions and dynamics, about melancholy and beauty. With this organic and clean material, porcelain, I have tried to illustrate objects that relate to the man-built world, the concrete and architecture, and tell a story about our time. In the tension between the obvious story and poetry.
Powered by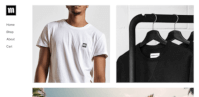 Create your own unique website with customizable templates.